This is an archived article and the information in the article may be outdated. Please look at the time stamp on the story to see when it was last updated.
A 7-year-old Palmdale girl who suffered multiple gunshot wounds Wednesday in a car-to-car shooting is expected to be removed from life support, in accordance with her family's decision, her aunt said.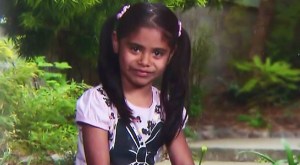 "Her heart's pumping because she's on medicine. Her organs are only working because she's on life support," Alicia Galvan said of her niece, Desiree Macias. "Her brain's not functioning. She was shot in the head."
Desiree's mother, both grandmothers and other family members were at her bedside Thursday. The girl's father, who is in prison, was allowed to say good-bye over the phone.
The shooting was reported at 12:50 a.m. Wednesday, just after the girl and her family left a Mobil gas station at 5564 Fort Tejon Road, near Pearblossom Highway, in Palmdale.
The shooting followed "verbal contact" between the family of the girl and the occupants of another car, according to a Los Angeles County Sheriff's Department news release.
According to family members, the mother's boyfriend went into the convenience store to buy some items.  While standing in line to check out, he was approached by two men who began taunting him.
He tried to leave, family members said, but the men blocked the door.
"So he tried to get around them because he didn't want any trouble.  But they wouldn't let him go, so he maced them and ran off and that's when they started chasing them," aunt Alicia Galvan said.
The girl and her family drove away from the gas station when the shooter or shooters followed them in another vehicle and opened fire, authorities said.
Those in the second car fired several times, chasing the family through a residential neighborhood, the sheriff's department said in the release.
After "evading" the second vehicle, the family discovered 7-year-old Desiree Macias had been shot, authorities said.
Family members are devastated by what happened to the girl.
"She was just starting…I mean, I've lived my life.  Take mine.  She was just starting out. She was just starting second grade," her aunt Rosa Galvan said.
Homicide detectives had taken over the investigation due to the Macias' extremely critical condition, the sheriff's department said in a news release just before noon Wednesday.
Investigators found shell casings on the ground at the gas station and at two other locations, including one near the family's home.
Three people were detained when a deputy stopped a vehicle matching the description of the shooters' car.  The three suspects were booked for attempted murder, but their names were not released.
Investigators believe two more men were in the car that opened fire.
Authorities asked those with information to contact Palmdale Station detectives at 661-272-2400. Those who wish to remain anonymous, may call "LA Crime Stoppers" at 800-222-8477, texting the letters TIPLA plus your tip to CRIMES (274637), or using the website http://lacrimestoppers.org.