This is an archived article and the information in the article may be outdated. Please look at the time stamp on the story to see when it was last updated.
An 8-year-old girl was recovering Monday after being bitten by several pit bulls in Santa Monica over the weekend.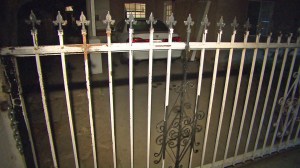 The incident occurred in the 1800 block of 21st Street (map) at about 8 p.m. on Sunday, according to Sgt. Jay Moroso of the Santa Monica Police Department.
The girl was visiting the home when two or three pit bull dogs bit her, Moroso stated in a news release.
"I heard a little girl screaming 'mommy, mommy,'" Rosalind Spann, a neighbor said.
Spann said she heard the girl running and found her hiding inside a car.
"She was bleeding from her feet, from her arms and from her back," according to Spann.
The girl was taken to the hospital and received multiple stitches, according to Moroso.
She was back at home and resting on Monday, although her mother told police the girl was in considerable pain because of the bites.
Three dogs were taken from the owners and were expected to be quarantined for 10 days, Moroso stated.
The initial police investigation found no evidence of criminal conduct committed by the dog owner, according to the release.
KTLA's Wendy Burch contributed to this report.