This is an archived article and the information in the article may be outdated. Please look at the time stamp on the story to see when it was last updated.
Marilou Danley, the partner of the gunman who shot and killed 59 people at a country music concert in Las Vegas, returned Tuesday night to the United States from the Philippines, according to multiple law enforcement sources.
Danley was met by federal agents at Los Angeles International airport, said the officials, who were not authorized to discuss the case publicly.
Danley was not placed under arrest and it was not known when, or if, Danley would agree to be interviewed about Stephen Paddock, who killed himself in the Las Vegas hotel room from which he launched his deadly shooting spree.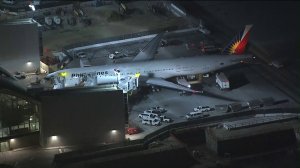 Clark County Sheriff Joe Lombardo, whose department is leading the investigation into the mass shooting, on Tuesday called Danley a "person of interest" and said authorities hope that talking with her will shed light on why Paddock carried out the killing.
Read the full story on LATimes.com.