This is an archived article and the information in the article may be outdated. Please look at the time stamp on the story to see when it was last updated.
GLENDALE, Calif. (KTLA) — Hospital employees are taking to the picket lines at Glendale Memorial Hospital to protest the recent decision to lay off dozens of workers.
Registered nurses, respiratory and X-ray technicians and other staff say that the layoffs will adversely affect patient care.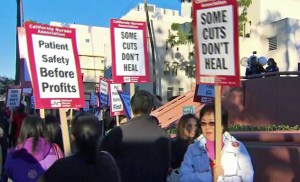 "We are all here to support the 41 support people who were laid off, who are our assistants, very needed," said Kathy Sampson, who has been a nurse at the hospital for 27 years.
"They are nurses' aides, they are monitor techs who watch our heart monitors… It's kitchen help, it's LVNs, it's transporters," she said.
"There are a lot of people, and we feel that's going to contribute to unsafe care, because the RNs are going to have to take over those jobs."
She also said that letting housekeeping workers go is particularly problematic during flu season.
The picketers planned to remain outside the hospital until at least 9 a.m., and possibly later.
Glendale Memorial Hospital has released a statement saying:
"We regret any inconvenience this might cause our patients, physicians and staff, and we remain eager and willing to resolve contract issues in a respectful and professional manner."