This is an archived article and the information in the article may be outdated. Please look at the time stamp on the story to see when it was last updated.
SACRAMENTO — Gov. Jerry Brown is famous for being unpredictable.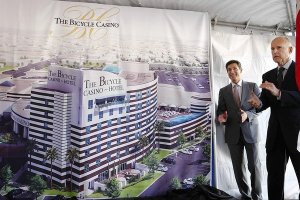 Lawmakers and lobbyists at the Capitol say they're never quite sure whether he'll sign or veto a bill. Brown also has a penchant for showing up at their offices along with his dog Sutter, and for keeping his own counsel about appearing at one of the dozens of events he gets invited to each week.
Journalists were surprised when the governor visited Bell Gardens on Tuesday to celebrate construction of a luxury hotel at the Bicycle Casino card room, off the 710 Freeway at Florence Avenue.
Brown hailed the $45-million-plus investment, saying it would create "hundreds of construction and permanent hospitality jobs." He called it "another sign of the rebound of the California economy, especially in our smaller cities and communities taking the brunt of the downturn."
Click here to read the full story on LATimes.com.