This is an archived article and the information in the article may be outdated. Please look at the time stamp on the story to see when it was last updated.
HAWTHORNE, Calif. (KTLA) — A Hawthorne police officer shot and killed a dog Sunday belonging to a man accused of disturbing a crime scene.
A bystander recorded video of the exchange and posted it on YouTube.
It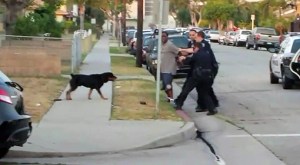 all started when dog owner, Leon Rosby, started taking video of police officers outside a barricade.
As police approached Rosby, he can be seen placing his dog, Max, in his car and then putting his hands behind his back to be arrested.
As Rosby was being handcuffed, Max started barking and jumped out of the car.
As Max approached the officers, one of them shot him four times.
Rosby plans to sue the Hawthorne Police Department, his attorney said.