This is an archived article and the information in the article may be outdated. Please look at the time stamp on the story to see when it was last updated.
ISRAEL-GAZA BORDER –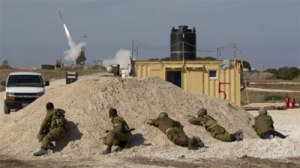 – A halt to the deadly attacks that have turned life into a nightmare for millions in Israel and Gaza could come Tuesday, according to Egypt and Hamas.
Israel has said it wants a cease-fire agreement, but has not indicated whether one could be imminent.
A senior Hamas official tells CNN that a "calming down" will be announced at 9 p.m. local time (2 p.m. ET). The announcement will come from a Hamas official in Cairo, the source said. The "calming down" could halt violence, but is not the same as an official cease-fire or truce, CNN's Ben Wedeman reported.
Meanwhile, a source familiar with discussions in Jerusalem told CNN that Israel has not agreed to a cease-fire. "One of the Israeli demands is that there should be a period of total calm for 24 hours before committing to any agreement," that official said. Negotiations are continuing, the source said.
"It's in the hands now of the Israelis," Osama Hamdan, Hamas spokesman in Beirut, told CNN by phone. After negotiation efforts by Egypt, "It's in the hands now of the Israelis. I think the Egyptians are waiting for some support, promised support, from the United States in order to make an end for that. So we expect to have an outcome of this issue today as President Morsy has said."
Egyptian President Mohamed Morsy said earlier the "travesty of the Israel aggression on Gaza will end in a few hours." Egypt has been meeting with each side to push for a cease-fire in the seven days of intense violence, but Morsy did not say what his statement was based on.
Israeli spokesman Mark Regev told CNN, "Diplomacy is still ongoing."
Israel is not interested in a "time out" allowing Hamas to regroup after Israeli strikes have done damage, Regev said. "We want a new reality" in which Israelis don't live under rocket fire from Hamas, he said.
To succeed, negotiations have to be done "discreetly," he said.
Hamdan, the Hamas spokesman in Lebanon, said Hamas' actions have been "a good lesson for the Israeli government. It's not good to attack the Palestinians, expecting that they will not react against the attack."
Asked whether Hamas would accept Israel's right to exist, Hamdan said the Palestinian people would not consider it without an end to occupation.
Earlier in the day, Mohammed al-Deif, a commander of the al Qassam Brigades — Hamas' military wing — said of Israel, "The ground operation that they keep threatening of waging will be the greatest hope to release our prisoners." He said the brigades' operation "will be the starting point for the next phase to liberate Palestine."
On Twitter, the brigades quoted him as saying the "Zionist enemy would pay (a) high price for his crimes in Gaza."
A slew of rockets fired Tuesday into Israel — including one aimed at Jerusalem, another that caused casualties in the southern town of Beer Sheva and a third that injured five Israeli soldiers — continued to be met by Israeli strikes on sites in Gaza.
A group of men in Gaza dragged the body of a man through streets from the back of a motorcycle. In Arabic, the men — who carried weapons — yelled that he was a traitor and Israeli spy.
A local media report said six alleged collaborators were killed, CNN's Anderson Cooper reported from Gaza.
Israel said it was holding off on a ground offensive into Gaza to give diplomatic efforts time. Those efforts include talks that U.S. Secretary of State Hillary Clinton and U.N. Secretary-General Ban Ki-moon each planned with Israeli officials and with Palestinian officials in the West Bank, where the government is run by the Palestinian faction Fatah. Gaza is run by Hamas, which the United States and numerous other countries consider a terrorist organization
While Israeli troops are ready near the Gaza border, Israel has decided "to give time — limited time — for a diplomatic solution" before potentially launching a ground offensive, an Israeli official close to the negotiations said. "That solution must result in no more Hamas rockets fired on Israel."
On Twitter — which has played a central role in the conflict as both sides share information, claims and images — a spokesman for Israeli Prime Minister Benjamin Netanyahu gave similar comments.
"Before taking a decision on waging a ground operation, Israel wants the diplomatic approach to take its course in order to negotiate the possibility of reaching a long-term truce politically," Ofir Gendelman tweeted in Arabic.
Netanyahu himself, at a news conference with Ban, said Israel was "conducting these surgical operations against terrorists at a time when our own population is being bombarded by rocket attacks."
"If we hope to make these tactics illegitimate, they should be condemned in the most forceful terms by all responsible members of the international community," he said. "The moment we draw symmetry between the victims of terror and the unintended casualties that result from legitimate military action against the terrorists, the minute that false symmetry is drawn, the terrorists win."
Ban said he visited Israeli cities struck by rocket fire and met with people "living in fear and terror."
"This is unacceptable," he said.
While noting Netanyahu's statement that Israel's military works to avoid civilian casualties, Ban added, "The loss of civilian lives is unacceptable under any circumstances.
"The excessive use of force is unlawful and must be rejected."
Jerusalem Mayor Nir Barkat said Ban was among those who had to take cover when sirens sounded in Jerusalem, warning of an incoming rocket. Military officials said the rocket landed in an open area of a village.
The Gaza Ministry of Health said five people were killed Tuesday morning, including a child in northern Gaza. The ministry said 114 Palestinians have been killed and more than 900 injured since the latest hostilities erupted seven days ago.
Officials have not said how many militants were killed.
Three Israelis have been killed and more than 70 have been injured, Israeli officials said. Soldiers are among the wounded, the IDF said.
Violence Tuesday included 11 Hamas rockets that hit the Israeli city of Beer Sheva, causing casualties. More than 30 rockets were fired into the area Tuesday, but most were destroyed by Israel's Iron Dome interceptors.
CNN's Wolf Blitzer spoke with a father, mother and four children who had heard the warning siren Israel uses to let people know a rocket is incoming. They ran to a safe room and survived by only a matter of about 30 seconds.
In Tel Aviv, a man with an ax attacked a U.S. Embassy security guard, Israeli police said. The attacker, who also had a knife, was arrested, police spokesman Micky Rosenfeld said.
Meanwhile, a strike by Israel "targeted two terrorists in the northern Gaza Strip," and a "direct hit was confirmed," the IDF said. Israeli military forces also "targeted a terrorist squad in Gaza that was preparing to fire rockets at Israel," the IDF said.
The IDF again dropped leaflets across parts of Gaza warning residents to evacuate their homes and go to central Gaza City. The leaflets told them which way to go and what part of the city to stay in once they arrived.
The leaflets are part of Israel's efforts to minimize civilian casualties, Israeli officials say.
Many people CNN has spoken to in Gaza said they want the violence to stop.
An Arab League delegation arrived in Gaza from Egypt to visit some stricken areas.
Throughout Tuesday, a fresh barrage of airstrikes pummeled Gaza.
The Israel Defense Forces said it targeted 100 sites overnight, "including underground rocket launchers, terror tunnels and ammunition storage facilities." The IDF said the "terror tunnels" were used as hideouts by Hamas operatives.
Israel has sent at least 1,350 airstrikes to Gaza, the IDF said.
"The mere fact that Hamas shoots a rocket at Jerusalem — it says more about them that it does about anything else," Regev, the Israeli spokesman, said Tuesday after the sirens had stopped sounding in the city. He pointed out that Jerusalem has Jewish neighborhoods, Arab neighborhoods and other communities.
Iran is arming Hamas with rockets, he said, echoing remarks by Israeli President Shimon Peres on CNN.
Gaza has endured a crippling economic embargo since Hamas won control of the territory from the Fatah-led Palestinian Authority after a landslide 2007 election that was followed by intra-Palestinian clashes.
Many Arab and Muslim nations view Hamas as the victim of Israeli aggression.
Diplomats hope to avoid a repeat of 2008, when at least 1,400 people died when Israeli troops invaded Gaza after a similar spate of rocket attacks.