This is an archived article and the information in the article may be outdated. Please look at the time stamp on the story to see when it was last updated.
Long Beach police were asking for help identifying a female passenger caught on camera trying to rob a taxi driver using a box-cutter and a hammer.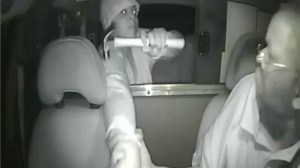 The woman attacked the driver just before 3:15 a.m. Sept. 26 near Anaheim Street and Redondo Avenue, according to the Long Beach Police Department, which publicized the incident on Tuesday.
Video showed the woman reaching through the taxi's glass divider and threatening the driver, Robby Williams, with a box-cutter and demanding money.
Williams told KTLA he just tried to stay calm.
"In a situation like that you don't want to show you're panicking cause that's what they want you to do and they can overpower you," Robby Williams said.
In the video, recorded from the cab, she asks Williams for "50 bucks," saying she has people waiting for her "if you do something stupid."
Williams tells her he knows her family, and she responds that he doesn't "know anything about me."
She then pulls a hammer through the window and appears to try to hit Williams in the face with it.
"When she brought the hammer…to hit my head…at that point I knew that she meant business," Williams said.
At that point, Williams accelerated and collided with a parked car and then the woman fled, according to police. She did not get any money from the driver.
The attempted robber was described as black and 20 to 25 years old. During the incident, she was wearing a brown knit hat and a light-colored hoodie, police said.
She had been picked up in the area of Seventh Street and Termino Avenue, less than a mile from the attempted robbery location, according to police.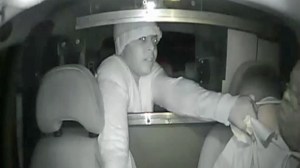 "Next time don't drink too much," the Yellow Cab driver can be heard saying to the woman before the attack.
Yellow Cab General Manager William Rouse said Williams has been working as a taxi driver for 30 years.
Williams had been hit with the hammer, Rouse said. He was back at work this week, Rouse said.
Anyone with information was urged to call Detective Fermin Gonzalez at 562-570-7464.
Anonymous tips may be submitted by calling 800-222-8477 (TIPS), texting TIPLA plus your tip to 274637 (CRIMES), or visiting www.lacrimestoppers.org.
KTLA's Kimberly Cheng contributed to this report.