This is an archived article and the information in the article may be outdated. Please look at the time stamp on the story to see when it was last updated.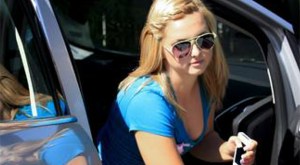 The mother of kidnap victim Hannah Anderson was bound, gagged and beaten to death before the killer set his home ablaze and fled with the teenager to the Northwest, according to the San Diego County medical examiner.
Christina Anderson, 44, a medical assistant, died of blunt force injury to the head with a minimum of 12 blows to her face and head, an autopsy report released Monday said.  She also had a broken arm and her throat was slashed, although the latter apparently was done after she was dead, the report said.
Christina Anderson's body was found Aug. 4 in the garage of a burned-out home in the rural San Diego County community of Boulevard owned by family friend James DiMaggio, 40.   Sheriff's investigators have concluded that DiMaggio killed Christina Anderson, her 8-year-old son Ethan and the family dog before fleeing with 16-year-old Hannah.
DiMaggio and the teenager were located six days later, on Aug. 10, in the deep forest of southern Idaho. FBI agents sent to rescue Hannah shot and killed DiMaggio after he fired on them and refused to surrender.
Click here to read the fill story at LATimes.com.