This is an archived article and the information in the article may be outdated. Please look at the time stamp on the story to see when it was last updated.
A Hawthorne man was suspected of animal cruelty after allegedly purposefully running over and killing a pet Chihuahua belonging to his estranged wife and children in an incident police said was caught on surveillance video.
Michael David Parker, 45, was arrested Jan. 3, a day after police found the remains of a dog inside a bag in an alley, according to a news release issued Monday by the Hawthorne Police Department.
Police and animal control officers had responded to an alley near El Segundo Boulevard and Doty Avenue after a local resident found dog that had been dead for several days and placed it inside a bag.
Investigators discovered surveillance video that, according to police, shows Parker driving into the alley, opening his trunk and closing it, then getting back into the car.
Moments later, a dog — described by police as a 5 1/2-year-old Chihuahua named "Cow Cow" — runs from the side of the car and in front of it, the video shows.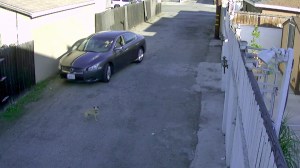 The car backs up and then rapidly accelerates directly toward the dog, running "Cow Cow" over.
As the dog lies convulsing and bloody in the alley, the car drives away.
Parker's estranged wife Olga told KTLA she believes "Cow Cow" was killed in retaliation for not giving him money from their retirement fund.
She said she's afraid of what he might do next.
"If someone would do that to a dog … what would he do to my kids?" Olga Parker said.
Parker posted $20,000 bail after several hours in police custody; he was due for arraignment at the Airport Courthouse on March 25, according to police.
Parker is the facilities director of the Hustler Casino in Gardena, the Daily Breeze reported, citing online records.
The couple's other dog, "Lucky" was apparently missing, the newspaper reported.
Correction: An earlier version of this article incorrectly reported that Parker had been charged. In fact, he had only been arrested on suspicion of animal cruelty. The story has been updated. Parker was charged on March 20, 2014.