This is an archived article and the information in the article may be outdated. Please look at the time stamp on the story to see when it was last updated.
Officials closed several blocks near an elementary school in Long Beach after two 55-gallon barrels, one of which was leaking, were discovered under the 91 Freeway overpass on Thursday morning.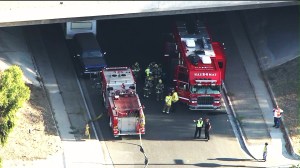 The Long Beach Fire Department was notified about the incident at Obispo Avenue and East 67th Street by parents who noticed the barrels as they walked their children to school.
A leak from one of the barrels prompted officials to close a three-block area to traffic and pedestrians, fire department spokesman Matt Dobberpuhl said.
"They've gone ahead and tested the materials and they're in the wrap-up stage right now. They've brought in a company to clean it up," Dobberpuhl said.
The closure was expected to last until around noon.