This is an archived article and the information in the article may be outdated. Please look at the time stamp on the story to see when it was last updated.
A hazardous materials crew was sent to a commercial building in San Fernando after a 55-gallon drum of a very strong hydrogen peroxide solution spilled, reacted with the carpet and spontaneously combusted Wednesday.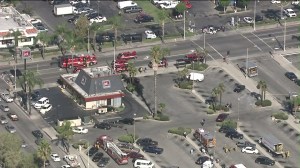 The incident was reported just after 9 a.m. at a commercial building located at 1133 W. Celis St. (map).
Three blocks surrounding the building were evacuated as a precaution, according to Erik Scott of the Los Angeles Fire Department.
The fire was quickly extinguished by more than 75 firefighters and the building was evacuated while a hazmat crew investigated, Scott said.
A 64-year-old man was treated for burns. Two others suffered minor injuries, but all three declined to go to the hospital, Scott said.
Firefighters wore self-contained breathing apparatus during the battle.
The one-story building is located in a row of commercial buildings near San Fernando Middle School.
The cause of the fire was considered accidental and damage was estimated at $40,000, Scott said in a detailed update sent out Wednesday evening.