This is an archived article and the information in the article may be outdated. Please look at the time stamp on the story to see when it was last updated.
For all the fuss over Obamacare — the president's plan to extend health coverage to about 30 million Americans — Southern California health providers were fielding only a smattering of questions on Tuesday, the first day of enrollment.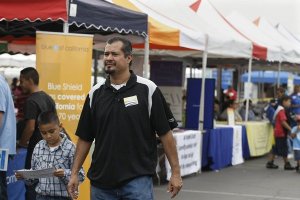 Officials at Covered California, the agency overseeing the state's health insurance exchange, have a goal of signing up more than 2 million people through next year, the most of any state.
The state-run exchanges are marketplaces where individuals can buy health coverage from a host of competing companies, hopefully at reduced cost. They aim primarily to serve workers who get no health insurance through their employer.
On Tuesday at Long Beach Memorial Hospital, 50-year-old Tim Medeiros was waiting for his 22-year-old son to undergo a medical procedure. He also hoped someone at the hospital could explain whether Obamacare could help him get less expensive insurance.
Click here to read the full story on LATimes.com.