This is an archived article and the information in the article may be outdated. Please look at the time stamp on the story to see when it was last updated.
California parents would no longer be able to claim an exemption to school vaccination requirements due to "personal beliefs" under legislation proposed Wednesday by a pediatrician-turned-state-senator.
The planned bill was announced in Sacramento by state Sen. Dr. Richard Pan and other legislators who were surrounded by mothers holding young children. Pan, who represents the Sacramento area, was the director of the pediatric residency program at UC David Medical Center.
The legislation comes amid an outbreak of measles cases that originated at Disneyland in  Anaheim in December. The outbreak has prompted intense debate between those who believe in the science behind vaccines and those who question vaccines' safety.
"We are in a situation where there are not enough people being vaccinated to contain these dangerous diseases," Pan said at Wednesday's news conference, according to video posted by the San Jose Mercury-News. "Parents … are scared that their children are going to be … infected with these diseases that are preventable."
"As a pediatrician, I have personally witnessed children suffering life-long injury or death from vaccine-preventable infection," Pan said. "This does not have to happen."
Pan was joined in introducing the legislation by Sen. Ben Allen, who previously served on the board of the Santa Monica-Malibu Unified School District, which was coping with a measles diagnosis in a baby at a campus day care facility, which was shut down.
"The high number of unvaccinated students is jeopardizing public health not only in schools but in the broader community," Allen said in the news release.
Current state law allows parents to opt out of school vaccine requirements under a personal belief exemption, meaning unvaccinated children may attend schools.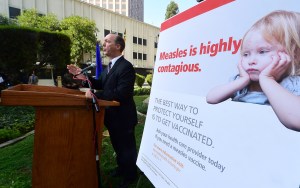 It was not immediately clear if the bill from Pan and Allen would continue to allow an exemption for religious beliefs.
Several state Assembly members also signed on to the bill as co-authors.
Thirty-two other states do not allow parents to rely on personal beliefs for exemption from vaccine requirements, Pan said.
Pan authored a 2012 law requiring that parents who seek personal-belief exemptions talk to a licensed health care practitioner and submit a form signed by that practitioner. Since the law went into effect on Jan. 1, 2014, the percentage of parents who sought such exemptions dropped 20 percent, according to Pan.
Measles was declared eliminated in the United States in 2000. In 2014, there were a record number of cases — nearly 650, according to the Centers for Disease Control and Prevention.
In January 2015, 102 cases were reported nationwide, the CDC said.
Los Angeles County Interim Health Officer Dr. Jeffrey Gunzenhauser spoke Wednesday about the measles outbreak locally, saying unvaccinated people who are exposed to an individual with the virus have a 90 percent chance of contracting it.
He asked for help getting the word out "on the importance of receiving the vaccine."
The spread of the virus within a community that has an immunization rate lower than 90 percent puts at risk those who cannot be immunized, such as infants, some cancer patents and those with HIV or other conditions, Pan's release stated.
A recent Los Angeles Times analysis found that preschools in affluent areas like the Westside, southern Orange County and the South Bay tended to have lower vaccination rates.
Pan announced late in January that he planned to introduce legislation requiring that parents be notified of their child's school's vaccination rate. That information is currently available for those seeking it online, on the state-run Shots for School website.
The rate-notification requirement was being rolled into the bill proposing the abolition of the personal belief exemption, Pan stated at Wednesday's news conference.
W/ Sen @BenforSenate, Wolk, Jackson and Asm @LorenaAD80 to intro leg and make sure all kids are safe from disease. pic.twitter.com/6yZUeLvpaz

— Dr. Richard Pan (@DrPanMD) February 4, 2015
More videos: