This is an archived article and the information in the article may be outdated. Please look at the time stamp on the story to see when it was last updated.
Nathan Campbell, the man accused in a deadly hit-and-run on the Venice boardwalk that left an Italian newlywed on her honeymoon dead and 16 others injured, was back in a Los Angeles courtroom on Tuesday for the continuation of a preliminary hearing that will determine whether he stands trial.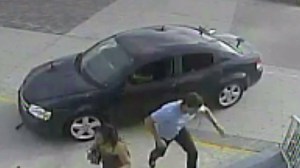 Campbell, 38, allegedly plowed a 2008 Dodge Avenger into a crowd of pedestrians on Venice's boardwalk on Aug. 3.
A number of witnesses testified in court on Tuesday, including John Drolette, who saw the entire rampage from the second-floor balcony of a hotel above the boardwalk.
He said that people who were on the boardwalk started parting when they noticed the car.
"Instead of going straight down the boardwalk to avoid hitting anyone, the vehicle went left, right, left, zigging down the boardwalk, hitting people that had moved out of the way," Drolette said.
During the rampage, Alice Gruppioni, 32, was struck and killed, according to the Los Angeles Police Department.
Campbell has been charged with murder, 16 counts of assault with a deadly weapon–a car–and 17 counts of hit-and-run in connection with the incident, a press release from the Los Angeles County District Attorney's office said.

He faces up to life in prison if convicted.

Campbell has pleaded not guilty to the charges.
A judge will decide whether there's enough evidence to try Campbell on the murder, assault and hit-and-run charges.
KTLA's Jim Nash contributed to this report.