This is an archived article and the information in the article may be outdated. Please look at the time stamp on the story to see when it was last updated.
A 13-year-old dachshund has a new lease on life Friday after being found outside an animal shelter with a heartbreaking note from an elderly couple who said they could no longer afford to care for their sick pet.
The dog, named "Harley" by rescuers, was found tied to a basket Thursday morning outside the Baldwin Park Animal Shelter, according to Toby Wisneski, CEO and founder of Leave No Paws Behind.
The note left with Harley explained that the dachshund, which has had a skin disease for years, had gotten sick, was vomiting and had bloody stools.
"We are both seniors, sick with no money. We cannot pay for vet bills, or to put him to sleep. He has never been away from us in all those years, he cannot function without us, please put him to sleep," stated the note, which ended without identifying the owners.
Someone from the shelter called Wisneski and asked if her organization could help. If not, she was told the dog would have to be put to sleep.
Leave No Paws Behind — described on their Facebook page as a nonprofit, foster-based rescue — took the dog to East Valley Veterinary Clinic in Sun Valley for treatment.
Although Harley did test positive for noncontagious demodectic mange, his blood work came back fine and he was expected to be OK, according to Wisneski.
"He is as cute as can be, he had a bath, he has been started on medication, he is eating, he is as happy as can be," Wisneski posted on the Leave No Paws Behind Facebook page.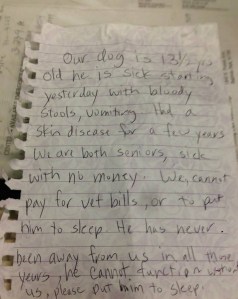 Wisneski said what Harley's owners did was an act of kindness and probably saved his life.
Had they walked into the shelter with Harley and made their wishes known, Harley would have been put to sleep, Wisneski said.
"Their last act of kindness was assuring that Harley was going to be safe and have a good life by leaving him in a basket and leaving him with a note. By doing that they almost guaranteed he would be taken care of, and for that we are thankful," Wisneski said.
Wisneski said she would like Harley to return to his home, but has been unable to locate the owners.
If they can be found and deemed capable of taking care of Harley following a home check, Wisneski said Leave No Paws Behind would pay for Harley's medical expenses.
If she cannot find the owners, she would likely begin the process of finding Harley a foster home on Monday.
If Harley should go up for adoption and you would like more information, please contact Leave No Paws Behind at info@leavenopawsbehind.com.