This is an archived article and the information in the article may be outdated. Please look at the time stamp on the story to see when it was last updated.
A family dog named Charlie was back home Tuesday after being shot twice while saving her South Los Angeles family from an intruder.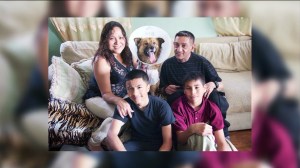 Charlie underwent several surgeries and even lost a leg, but she survived.
Her family said that was because of the people at the North Central Shelter who cared for Charlie and helped raise money to cover her medical bills.
The goal for Charlie's surgery was $4,000.
As of Tuesday, the shelter had raised $8,000 and there were still two days left in the campaign.
The shelter's story was picked up by a L.A.-based dog rescue operation, The Bill Foundation, which brought further attention to Charlie's plight with a Feb. 23 Facebook post.
The shelter said all the extra money would go toward helping other animals in need.
You can donate to the shelter's intervention program via Paypal at ncintervention@gmail.com.
KTLA's Doug Kolk contributed to this article.
Debbie Zeitman