This is an archived article and the information in the article may be outdated. Please look at the time stamp on the story to see when it was last updated.
A Twitter account that gained attention after tweeting clues that led followers to hidden cash in California launched its second scavenger hunt in Los Angeles on Thursday.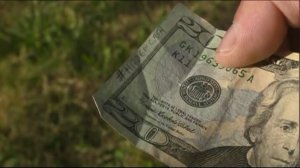 @HiddenCash, an anonymous Twitter account apparently run by a wealthy donor from the Bay Area, has said people should not be cynical and that giving away thousands of dollars through the tweeted hints was a random act of kindness.
Described as "an anonymous social experiment for good," Hidden Cash first appeared on Twitter on May 23 and has since gained more than 275,000 followers.
His scavenger hunts began in the Bay Area on Friday, and the game came to L.A. on Wednesday, when one tweet and accompanying photo led @kendellinger to the William Mulholland Memorial Fountain in Los Feliz.
"I hope there is not a lot of hysteria," the anonymous man behind the Hidden Cash account told the Los Angeles Times in an interview.
He wanted to have fun with his six-figure profit from a recently closed real estate deal, the newspaper reported.
"I love to give back," he told the Times. "I would love to have more join me to give back more."
Just before 1:30 p.m. Thursday, Hidden Cash tweeted a mysterious clue to the second L.A. cash stash, saying the drop would take place at 7 p.m.
"First clue: Sounds like where a robin or eagle might keep their money," the clue read.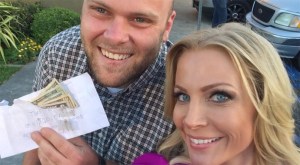 The account had initially stated that hints would be given Friday, but later stated that the giveaway would be on Thursday.
Then, just before 6:30 p.m. came another tweet.
"There will be a couple drops tonight near each other. Coming soon. Please keep it safe, fun, and friendly. Consider sharing $$$. Love," the tweet read.
Chris Treichel and his co-worker found the first cash drop of $135.00 in Burbank.
About 20 minutes later, 14-year-old Tatiana Ramirez spotted an envelope full of cash she said was going toward her grandmother's medical bills.
Sean Zerbe and his friends found the last envelope of the night.
They tweeted their victory photo from the car to avoid the growing crowd of scavenger hunters.
Third and final drop tonight: Where the grass ends (or begins?) by pink ribbon. pic.twitter.com/drHNQDpom1

— Hidden Cash (@HiddenCash) May 30, 2014
Next drop: Need bus fare? One person's trash is another person's treasure. Remember – all same area 2nite. pic.twitter.com/pst1U7g48X

— Hidden Cash (@HiddenCash) May 30, 2014
3 drops tonight in same area. Remember your earlier clue? Now head to where Russian, Roman, British ________ meets the road to Sac.

— Hidden Cash (@HiddenCash) May 30, 2014
First LA drop! Get close to the water, but no need to get wet at this famous fountain. pic.twitter.com/seV9s6uh8B

— Hidden Cash (@HiddenCash) May 29, 2014
@HiddenCash We <3 LA! pic.twitter.com/KFmFcoMh5r

— Ken Dellinger (@kendellinger) May 29, 2014
Next up: Travel scholarship? Or Burning Man tickets? You vote.
No more drops in LA til tomorrow afternoon.

— Hidden Cash (@HiddenCash) May 29, 2014
If Hiddencash is gonna give away $1000 CASH today in LA, should it be 4*$250 or 10*$100?

— Hidden Cash (@HiddenCash) May 29, 2014
Tonight's drops: First clue: Sounds like where a robin or eagle might keep their money. 7 PMish…

— Hidden Cash (@HiddenCash) May 29, 2014