This is an archived article and the information in the article may be outdated. Please look at the time stamp on the story to see when it was last updated.
The mad dash for cash continued on Friday as the anonymous donor behind the "Hidden Cash" scavenger hunt dropped more money-filled envelopes for a third straight day in the Los Angeles area, promising that the game would only get bigger.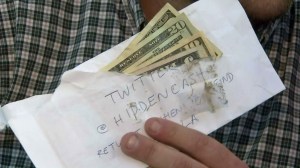 The scavenger hunt began in the morning shortly before 9:30 a.m. when @HiddenCash tweeted the first clue of the day.
"First clue to first drop: Little old lady was from here, and I mean the old part. Be safe. Have fun. Pay it forward," the tweet read.
About 30 minutes later, the cash-filled envelope containing $145 was found at the Firehouse Recording Studio in Pasadena by Cassandra Mercury.
"It's just a modern day treasure hunt," she said.
The scavenger hunt then headed to the Huntington Botanical Gardens, in nearby San Marino.
"They say money doesn't grow on trees, but with @HiddenCash it does! That's your clue for next 2 drops. Pics coming," a tweet from the account stated around 10:20 a.m.
The next winner was Soraya Gonzalez, who found an envelope near the parking lot.
"I found it!" Gonzales said, opening the envelope, which turned out to have $125 inside. "No one was here, and I sort of walked around in silence and kind of asked for guidance."
A third lucky winner, Robert Ramirez, also found more than $200, according to the Hidden Cash Twitter account.
"It was in this tree," he said, pointing to the spot where he me made the discovery. "Exactly right here."
After the three early drops, more clues would be tweeted as the hunt for money was set to move to a different part of Los Angeles later that day.
"About to do more drops in LA. Give me a couple hours," the tweet stated. "Traffic and logistics… Clues coming."
Friday evening brought three more drops in Echo Park.
Clue: First three drops are in this park. First three drops are in this park. First three drops are in this park. (Get it???)

— Hidden Cash (@HiddenCash) May 31, 2014
The game would also be continued in the area through the weekend, with Hidden Cash promising the "biggest scavenger hunt in LA history, with dozens of drops in one area.
Los Angeles: Tomorrow will be EPIC! With dozens of drops in one area. It will be outdoors. Biggest scavenger hunt in LA history. Stay tuned.

— Hidden Cash (@HiddenCash) May 31, 2014
Billed as "an anonymous social experiment for good," Hidden Cash has amassed a following of more than 340,000 people since it first appeared on Twitter on May 23.
The wealthy man behind Hidden Cash, whose identity remains a mystery, said in a blog post that the idea initially came to him last Thursday, when he was trying to figure a way to give back to the community.
"There really is no agenda here – not political, not business, not religious – other than bringing people together in a positive way and bringing a smile to people's faces," he wrote. "There will always be cynics and skeptics, especially as a movement grows, but it is truly my intention to give back and make people happy. This is not a promotion for a business. We want to encourage people to be kind, to be generous, and to pay it forward."
The Hidden Cash scavenger hunts began in the Bay Area last Friday before heading down to L.A. on Wednesday night, where the first envelope was found by @kendellinger at the William Mulholland Memorial Fountain in Los Feliz.