This is an archived article and the information in the article may be outdated. Please look at the time stamp on the story to see when it was last updated.
Students protested at a downtown Los Angeles high school Thursday morning against the suspension of a science teacher who had supervised projects that were accused of being dangerous.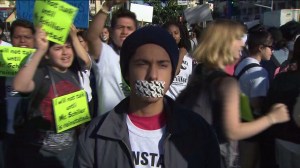 Greg Schiller was suspended from the Ramón C. Cortines School of Visual and Performing Arts (map) in February when another employee raised concerns that two of Schiller's students made projects that looked like weapons, the Los Angeles Times reported.
The projects, which were designed to launch small projectiles, have been confiscated by LAUSD as evidence, one parent told the Times. Schiller said he did not get a chance to grade the students' work.
"I discussed with them scientific principals but … the projects were removed before I had an opportunity to fully examine them," Schiller said.
Since the suspension, students, former students, parents and the teacher's union have come to Schiller's defense.
"We want Mr. Schiller back. We want him out of 'teacher jail.' We want him reinstated," student Samantha Healy said during the protest. "No one got hurt, no one was going to get hurt."
One of the students, Asa Ferguson, said his project was not dangerous and should have been called it a "linear accelerator" rather than the more dangerous-sounding "electric coil gun."
"This would take technology that I don't have access to … to make it dangerous. It would require a lot more stuff than what was there," Ferguson said during Thursday's rally.
One pupil said biology students were unprepared for an upcoming exam due to Schiller's absence.
United Teachers Los Angeles President Warren Fletcher told the Times it seemed Schiller was "being punished for teaching science."
A Facebook page "Free Schiller" had more than 500 likes as of Thursday.
At Thursday's rally in front of the school, students placed duct tape over their mouths, and wore signs that said "I will not talk until Mr. Schiller is reinstated."
People were excited for the rally because they did not think what happened to Schiller was fair, said Healey, one of his biology students.
"He's a really great teacher, and he really cares, he really wants to teach and he loves teaching," Healey said.
Schiller's work with UTLA could have also led to his suspension, parent Matthew Moran said.
"I believe there's a political agenda. I know that sounds paranoid but I believe they want to keep him out," Moran said.
Schiller also coaches the school's fencing team, and administrators determined the team could not compete safely without him in charge, according to the Times.
The Los Angeles Unified School District does not comment on ongoing investigations, according to a statement released Thursday.
"We will always err on the side of protecting students," the statement read. "On the other hand, the District does not reassign employees on a whim.  The reassignment of employees is taken very seriously. For this reason, there is a rigorous decision making process associated with the reassignment of employees."
KTLA's Kacey Montoya contributed to this report.