This is an archived article and the information in the article may be outdated. Please look at the time stamp on the story to see when it was last updated.
Just as a major storm was tapering off Sunday, the National Weather Service extended a high surf advisory throughout the coastal areas of Southern California.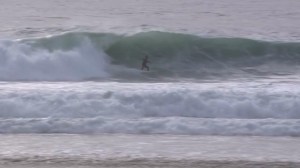 The powerful storm brought rain, flooding and mudslides to the Southland over the weekend, while also forcing the evacuation of homes in areas affected by recent brush fires, causing a number of power outages and leading to the closure of some roads.
It also brought monstrous surf and high waves to the area.
Dramatic video from Santa Barbara caught a huge wave crashing through the window of Moby Dick restaurant on Stearns Wharf Saturday.
The high surf advisory was initially scheduled to expire Sunday at 5 p.m. in Los Angeles and Ventura counties, but the weather service extended the advisory until 8 a.m. Monday.
Surf of five to eight feet was forecast along the coast, according to the weather service. It was expected to gradually subside overnight.
A high surf advisory was also in effect along the coastal areas of Orange County until Monday at 4 a.m.
The weather service warned that the high surf would create dangerous rip currents and strong waves that had the potential to wash people off of beaches and knock them off rocks.
Anyone caught in a rip current was advised to swim parallel to the shore until they were free of the current, according to the weather service.