This is an archived article and the information in the article may be outdated. Please look at the time stamp on the story to see when it was last updated.
Strong winds across areas of Southern California have prompted the National Weather Service to issue a high wind warning Wednesday in parts of Los Angeles and Ventura counties.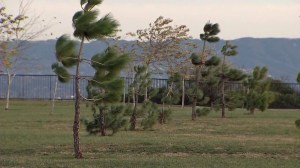 The warning was scheduled to last until 3 a.m. Thursday, according to the weather service.
Gusts of up to 60 mph were forecast for parts of Los Angeles, Ventura and Santa Barbara counties, with the strongest winds expected through and below passes and canyons in the Santa Ynez Mountains.
A wind advisory was also scheduled to be effect until 10 a.m. in parts of the Santa Clarita, San Fernando and Antelope valleys, where the weather service forecast gusts between 45 and 55 mph.
The winds were expected to slowly diminish by Thursday morning, according to the weather service.
Motorists were urged to exercise caution when driving through gusty areas.
The weather service also warned that blowing dust and sand could restrict visibility in some parts of the Antelope Valley.