This is an archived article and the information in the article may be outdated. Please look at the time stamp on the story to see when it was last updated.
Former U.S. Labor Secretary Hilda Solis, the front-runner for an open seat on the Los Angeles County Board of Supervisors, faced a federal inquiry concerning her involvement in a fundraiser for President Obama, according to two sources familiar with the case.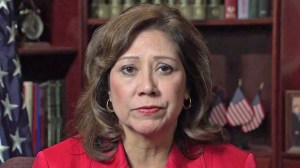 In response to questions from The Times, Solis campaign consultant Parke Skelton said Friday she hired a Washington, D.C., law firm in 2012, her final year as Labor secretary, "to address legal issues concerning her role in a fundraising event" at a Los Angeles supper club.
Skelton said Solis' participation in the Obama fundraiser was "perfectly proper."
Solis disclosed her legal bill in federal financial disclosure forms she filed last February, shortly after she left the Obama Cabinet. The forms show she owed the Sidley Austin firm between $50,001 and $100,000 for "legal advice."
Click here to read more at latimes.com.