This is an archived article and the information in the article may be outdated. Please look at the time stamp on the story to see when it was last updated.
A brush fire broke out near Highway 18 at the northern end of San Bernardino early Thursday, scorching 200 acres and destroying or damaging several homes. The blaze, dubbed the Hillside Fire, was reported about 1:40 a.m. along Highway 18, at Lower Waterman Canyon, according to the San Bernardino County Fire Department. It had consumed more 200 acres less than an hour later.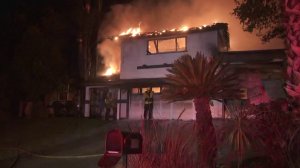 Firefighters got in positions for structure defense as they worked to douse the flames but aerial video from Sky5 showed at least four damaged by flames. As of 12:45 p.m. Thursday, the fire was 50% contained. One firefighter was taken to a hospital for smoke inhalation. Evacuations previously in place for the blaze were expected to be lifted Thursday evening. The evacuated area was expected to be without power for an unknown duration, Southern California Edison said. A total of 140 homes were being assessed during the blaze and fire officials determined that six homes were destroyed, while another 18 were damaged. Some of the worst damage occurred to homes on Monte Drive and Viento Way in the North Park area. At least one home was also seen burning near Lupin Lane and Saturn Court. One man, who was helping family members evacuate was wondering when the wildfires will stop. "The whole state is on fire … Who's gonna be next," he said.
#HillSideFire (Update): Updated map of fire perimeter. High winds continue in the area, 20-30 mph with gusts up to 60. Firefighters continue to work on perimeter control as well as structure defense. Krn @SanBernardinoPD @SanBernardinoNF pic.twitter.com/Ox5pWHMDXl

— SB County Fire (@SBCOUNTYFIRE) October 31, 2019
Highway 18 heading into the mountains was closed for hours before reopening at 4 p.m. Firefighters are contending with 20 to 30 mph winds with gusts up to 60 mph, according to the National Weather Service. A high wind warning for San Bernardino County is in place until about noon, when winds are expected to subside. A red flag warning has also been issued for the area until 6 p.m. About 500 firefighters were on the scene of the fire, San Bernardino National Forest Department Chief Scott Howes said earlier in the day Thursday. A full complement of firefighting aircraft were also deployed to the incident, he said. All San Bernardino Unified School District schools are still expected to be open, officials posted about 4:45 a.m. About 10 a.m., fire officials tweeted that they had determined where the blaze began, but the cause remains under investigation. "There are NO power lines near the area of origin,"
officials said in the tweet
. Officials are working to determine a cause of the fire. Another brush fire burned in the area last week. The Old Water fire scorched more than 100 acres after starting near Old Waterman Canyon Road and Highway 18 on Oct. 24.
#HillsideFire (Update): IC reporting 50% containment & approx 200 acres. 1 firefighter transported to area hospital for smoke inhalation. Crews will remain on-scene reinforcing containment lines & completing mop up. Continued unified command w/ @SanBernardinoNF & @SanBernardinoPD pic.twitter.com/5qYbpEZa1w

— SB County Fire (@SBCOUNTYFIRE) October 31, 2019
#HillsideFire (Update): Investigators have determined the area of origin. Cause remains under investigation. There are NO power lines near the area of origin. @SCE @SanBernardinoNF @SanBernardinoPD ^eas pic.twitter.com/OEBI9xZ8FX

— SB County Fire (@SBCOUNTYFIRE) October 31, 2019