This is an archived article and the information in the article may be outdated. Please look at the time stamp on the story to see when it was last updated.
EAST LOS ANGELES, Calif. (KTLA) — Protesters spread out across East Los Angeles on Friday night, to speak out against a series of DUI checkpoints set up in the area for the Memorial Day weekend.
Dozens of officers with the California Highway Patrol and the Los Angeles County Sheriff's Department stopped cars in the area, searching for anyone who may have had too much to drink.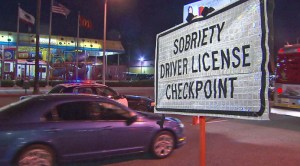 But critics accused the officers of trying to make things more difficult for undocumented immigrants, not drunk drivers.
"We feel that the police target immigrant, Latino, Mexican communities unfairly," protester Carlos Montes told KTLA5.
"These police checkpoints do not catch drunk drivers. They catch mostly people who do not have driver's licenses and they impound their cars," Montes added.
In an effort to protest the police activity, a small group set up their own check point at the corner of Corner of Whittier and Atlantic Boulevards, warning drivers of what was ahead.
But others in the area said the protest was misguided.
"I think that drunk driving is much more serious than undocumented," said one woman who spoke to KTLA.