This is an archived article and the information in the article may be outdated. Please look at the time stamp on the story to see when it was last updated.
Several firefighters narrowly escaped injury when the facade of a Hollywood strip mall collapsed as they were battling a fire Sunday morning, officials said.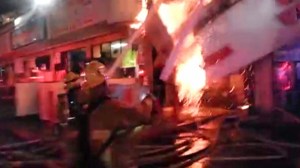 The fire was reported about 3:43 a.m. in the 5900 block of Santa Monica Boulevard (map), Los Angeles Fire Department spokesman Brian Humphrey said in a news release.
Crews forced their way into a smoke-filled vitamin shop and then a jewelry store, and they found the fire had started in a utility room and extended to the attic, Humphrey said.
After about 12 minutes, a battalion chief alerted the 86 firefighters on the scene that the front of the building was beginning to fail, according to the release.
As crews doused the flames, the front of the building collapsed, video provided by the LAFD showed.
All firefighters were accounted for, and no one was hurt, according to Humphrey.
It took about 24 minutes for firefighters to knock down the blaze, officials said.
Damage was limited to the two businesses and estimated at $160,000, and the cause of the fire was determined to be electrical in nature, according to the news release.