This is an archived article and the information in the article may be outdated. Please look at the time stamp on the story to see when it was last updated.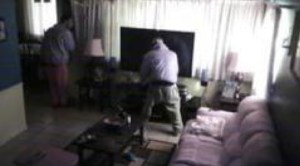 PALMDALE — Deputies are searching for 2 young men caught on home surveillance video burglarizing a Palmdale residence.
Investigators say the two suspects climbed through a rear window of a home on 20th Street East around 2 p.m. on Jan. 16 and ransacked the place.
The suspects stole a .22 caliber rifle, a laptop, valuable jewelry and more than $1,000 in cash.
The suspects appear to be around 18-years-old, investigators say.
One of the suspects is described as around 5 feet 11 inches tall and weighing about 165 pounds. He wore a gray beanie, a  gray sweat shirt and pink pants.
The second suspect wore a gray beanie, a gray sweat shirt, gray gloves and tan pants, authorities said.
Anyone with information about this case is urged to contact the Palmdale Sheriff's Station at (661) 272-2506.
Tips can also be called in anonymously to Crime Stoppers at (800) 222-8477.