This is an archived article and the information in the article may be outdated. Please look at the time stamp on the story to see when it was last updated.
SHERMAN OAKS, Calif. (KTLA) — A homeless couple that was living in a shack on a friend's property in Lancaster when they were shot by deputies have been awarded millions in an excessive force lawsuit.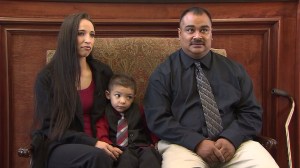 Angel Mendez and his then-fiancee, Jennifer, were asleep when Los Angeles sheriff's deputies raided their makeshift home in search of a parolee in October 2010.
Deputies said they saw a BB gun when they entered the shack and started shooting.
"There's really no words to explain it. I mean It was terrifying," Jennifer Mendez said.
Angel Mendez was struck 10 times. He eventually had to have part of his leg amputated.
Jennifer Mendez, who was pregnant at the time, was shot once in the back and had a graze wound to her hand.
"I kept screaming for them to 'stop shooting, stop shooting, my fiance is pregnant, it's just a BB gun,'" Angel Mendez said.
The couple was awarded $4.1 million when a judge ruled their civil rights were violated during the raid.
The deputies involved were cleared of any wrongdoing in an internal investigation.
A Los Angeles County Spokesperson said they have not decided if they will appeal.
The couple's baby boy was born healthy.