This is an archived article and the information in the article may be outdated. Please look at the time stamp on the story to see when it was last updated.
Roger Anderson has a lot to be thankful for this holiday season.
After spending more than three decades living on the streets — seeking refuge under bridges, in the woods and most recently on a small, grassy patch by the 110 Freeway in downtown Los Angeles — the 47-year-old moved into his first apartment in time for Thanksgiving.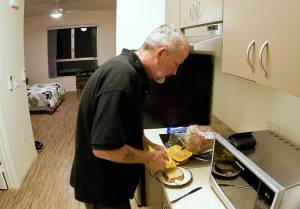 On Tuesday, Anderson was given the keys to a studio inside a sleek apartment complex that opened earlier this month and caters to the city's chronically homeless. The space is modest with a kitchenette, spacious bathroom and comfortable-sized living space.
But for Anderson, the apartment is the first place he can set his wallet down without worry since he ran away from an abusive father at 13.
Click here to read the full story on LATimes.com.