This is an archived article and the information in the article may be outdated. Please look at the time stamp on the story to see when it was last updated.
A homeless man in New Jersey has been temporarily denied welfare benefits because he failed to report $850 he found on the street and handed over to police, according to local media reports.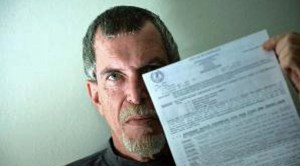 James Brady discovered the cash while he was walking in Hackensack, New Jersey last April, The Record reported.
The 59-year-old turned the money over to police and became an Internet sensation for his good deed.
No one claimed the cash after six months, so police gave it to Brady in October. That's when the trouble started.
Someone at the Hackensack Human Services Department read about Brady's windfall and an investigation was launched.
Once it was determined that Brady did not report the $850, his $210 a month assistance check and Medicaid benefits were suspended until the end of December.
The director of the Hackensack Human Services Department, Agatha Toomey, told The Record she was simply following the rules when she denied Brady's benefits.