This is an archived article and the information in the article may be outdated. Please look at the time stamp on the story to see when it was last updated.
Alicia Mendivil said she was scared when a guard asked to see her ticket before she sat down in one of Union Station's art deco armchairs.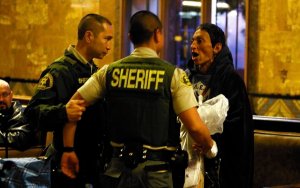 The holiday traveler from Yuma, Ariz., didn't feel much better when she learned the reason: a crackdown on homeless people who officials said had turned the cavernous downtown transportation hub into a shelter.
"You can tell a homeless person from somebody who's not, can't you?" said Mendivil, a Christmas wreath brooch winking from her lapel.
She had encountered a pilot program launched Dec. 9 by the Los Angeles County Metropolitan Transportation Authority putting seats in the historic structure off-limits to all but ticketed Amtrak and Metrolink passengers.
Click here to read the full story on LATimes.com.