This is an archived article and the information in the article may be outdated. Please look at the time stamp on the story to see when it was last updated.
LOS ANGELES — Four men have been arrested on suspicion of burglarizing the homes of Los Angeles Times subscribers while they were on vacation, authorities said.
Detectives said one of the suspects got lists of subscribers who had submitted "vacation holds" to a vendor that distributes newspapers for The Times.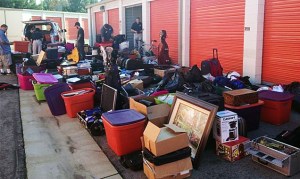 Duane Van Tuinen, 51, of Azusa is believed to have supplied the burglary crew with the addresses. He was arrested on Wednesday evening.
He serviced machines in the distribution centers that subcontract with the Times to deliver the paper, officials said.
Three other men are also behind bars: Randall Whitmore, 43, of LaVerne; Joshua Box, 43, of Arcadia; and Edwin Valentine, 52, of Covina.
All three men were booked on suspicion of receiving stolen property and possession of stolen property. Deputies are seeking a fifth suspect.
Officials said they have identified 25 victims, but believe there are more than 100.
Most of the break-ins occurred along the 210 Freeway in eastern L.A. County and western San Bernardino County, L.A. County sheriff's officials said.
The thieves allegedly stole $1 million in property over the last three years.
A six-month investigation led to the recovery of about $100,000 worth of personal property, including artwork, golf clubs and guitars.
But investigators believe the thieves stole many more items including jewelry and collectible coins, that they later sold.
Authorities said the thieves would case the homes of the subscribers who had submitted vacation holds to make sure they were gone before they struck.
In some cases, the burglars found the victims' cars keys and took the vehicles as well, loaded up with stolen goods.
The case turned last summer, when Glendora police pulled over one of the suspects, who had a list of addresses as well as stolen property, officials said.
Detectives determined that the address belonged to Times subscribers who had stopped delivery while away on vacation.
Investigators looked into whether the list was obtained by computer hacking, but eventually determined it was an inside job.
Sheriff's officials said The Times has cooperated fully with the investigation.
"The Los Angeles Times was contacted several months ago about criminal activity which may have been linked to subscriber delivery information," Times' spokeswoman Nancy Sullivan said.
"We immediately launched an internal review and collaborated with the Sheriff's Department as matters unfolded, including honoring their request to keep the matter confidential because the investigation was active.
"The Times sympathizes with those who have been harmed and joins the other victims in thanking the Sheriff's Department for their hard work."
Sullivan added: "We continuously review and upgrade our policies and systems to protect and best serve our customers."
Anyone with information, or who thinks they may have been victimized, is asked to call Sheriff's Major Crimes Bureau detectives at (562) 946-7893.