This is an archived article and the information in the article may be outdated. Please look at the time stamp on the story to see when it was last updated.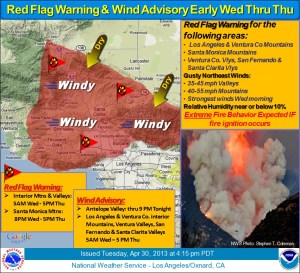 As high pressure builds, the marine layer will shrink, the winds will shift and strengthen out of the northeast and the humidity will drop.
The strongest winds are expected Wednesday morning through Thursday morning with gusts possibly reaching 55 miles per hour over the mountains. By Thursday evening the winds will begin to relax and the advisories should expire.
Temperatures could hit record levels by Friday.  The warmest valleys may get to 100 by the end of the week.
A combination of gusty northeast winds and a hot and very dry air mass have prompted a Red Flag Warming. Fire weather concerns will be in effect for our valleys and mountains until Friday.