This is an archived article and the information in the article may be outdated. Please look at the time stamp on the story to see when it was last updated.
A house caught fire and a car exploded within blocks of each other in Canoga Park Monday morning.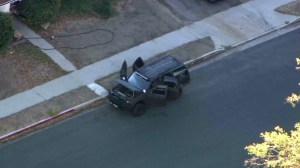 Fire crews responded to a report of a house fire in the 8100 block of Farralone Ave. at about 4 a.m.
The fire was isolated to one room and knocked down in about 15 minutes, according to Los Angeles City Fire officials.
One person was treated at the scene and was expected to be OK, officials said.
Just blocks away, at about 4:45 a.m., a vehicle explosion was reported in the 7800 block of Farralone Ave., near Columbus Middle School.
Areal video from Sky5 showed a damaged SUV parked in front of a home with all four doors open and the hood up.
A Los Angeles Police Department bomb squad was investigating.
It was unclear if the incidents were related.