This is an archived article and the information in the article may be outdated. Please look at the time stamp on the story to see when it was last updated.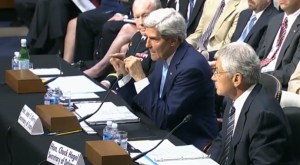 The Senate Foreign Relations Committee will take up a revised authorization bill Wednesday for the use of force in Syria, Democratic sources told CNN. The bill limits the authorization to 60 days, with an option for an additional 30-day deadline, and makes clear there would be no boots on the ground, the sources said.
Top U.S. officials faced tough questions from senators about plans for military strikes Tuesday as House leaders lined up behind President Barack Obama's call to punish Syria for an August poison gas attack near Damascus.
Kerry, Defense Secretary Chuck Hagel and Gen. Martin Dempsey, the chairman of the Joint Chiefs of Staff, appeared before the Senate Foreign Relations Committee as the Obama administration lobbied for Congress to authorize military action against Syria. From the outset, Kerry addressed the shadow of claims offered in the buildup to the 2003 invasion of Iraq, reassuring committee members that the intelligence linking Syrian government forces to the August 21 attack was solid.
"We are especially sensitive, Chuck and I, to never again asking any member of Congress to take a vote on faulty intelligence," said Kerry, who like Hagel, voted as a senator to authorize the Iraq invasion. "And that is why our intelligence community has scrubbed and re-scrubbed the evidence. We have declassified unprecedented amounts of information, and we ask the American people and the rest of the world to judge that information."
Click here to read the full story on CNN.com.