This is an archived article and the information in the article may be outdated. Please look at the time stamp on the story to see when it was last updated.
Nearly 100 firefighters took less than an hour to knockdown a stubborn blaze burning at an auto-dismantling yard in Lincoln Heights on Tuesday night.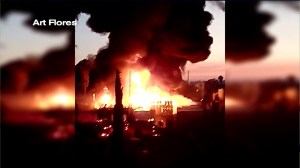 The fire was reported just after 8 p.m. at "ASAP Auto Wrecking" in the 1800 block of Hancock Street, according to Los Angeles Fire Spokesman Brian Humphrey.
The fire created a huge plume of dense black smoke that was visible for miles but there was no threat to local residents, according to the LAFD.
No evacuations or injuries were reported.
The cause of the blaze was still under investigation.