This is an archived article and the information in the article may be outdated. Please look at the time stamp on the story to see when it was last updated.
A contractor with Southern California Edison was killed Monday after he became trapped underground when an electrical vault he was working on exploded in Huntington Beach.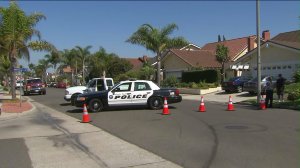 The blast happened at Mistral Drive and Tisbury Circle, according to Huntington Beach Fire Capt. Bob Culhane.
At least one person was working on the electrical vault when it caught fire and exploded, Culhane said.
Rescue efforts were hampered by a fire that burned for nearly an hour.
"SCE extends condolences to the contractor's family, friends and co-workers. SCE crews remain on site investigating the incident," the utility said in a statement.