This is an archived article and the information in the article may be outdated. Please look at the time stamp on the story to see when it was last updated.
ARCADIA, Calif. (KTLA) — Residents in Arcadia were on alert on Wednesday after yet another bear sighting in the foothill community.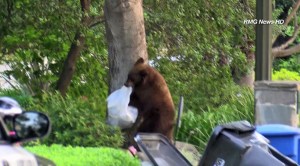 The bear was spotted in the 2200 block of Highland Oaks around dinnertime on Tuesday.
The hungry animal dug through trash cans, as police tried to use sirens and horns to scare it away.
The bear dragged away a trash bag away before finally running off into the hills.
Tuesday's sighting was one of several in the area in recent weeks, authorities said.
About a week and a half ago, there were two sightings about a day apart — one in Arcadia and the other in La Canada Flintridge.
One of those bears was caught, and the other ran away.
Los Angeles County sheriff's officials warned residents to give the bears as much room as possible.
Anyone who sees a bear should leave the area and call 911, according to the sheriff's department.
Residents were advised to use bear-proof trash cans and store garbage in their garages until pick up. Pet food should also be kept indoors.