This is an archived article and the information in the article may be outdated. Please look at the time stamp on the story to see when it was last updated.
LAGUNA NIGUEL, Calif. (KTLA) — A husband who accidentally sold his wife's wedding ring at a garage sale was hoping the person who bought it would bring it back.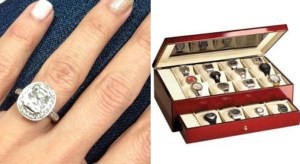 Racquel Cloutier hid her $22,000 wedding ring under a cushion in a wooden watch box for safe keeping before she went into the hospital to deliver her fifth child.
While Cloutier was in the hospital, her husband, Eric, sold the box at a neighborhood garage sale for $10.
"We never use it so I said let's make somebody happy. I looked in it, I didn't see anything and I sold it," Eric Cloutier said.
Racquel Cloutier is offering a reward for the return of her wedding ring.
"It's my wedding ring and its a one of a kind," Cloutier said. "It's such a bad feeling whenever you lose something, especially when it means so much to you."
The woman who bought the box was described as middle-aged with shoulder length blond hair and glasses.
"We're hoping maybe she can see this on TV and maybe realize and look in the box and hopefully she'll be honest enough and bring it back," Eric Cloutier said.
The family can be contacted by email at racquelcloutier@gmail.com.
The ring can also be dropped off anonymously at the security gate of the San Joaquin Hills community, located at 27380 Aliso Niguel Road.