This is an archived article and the information in the article may be outdated. Please look at the time stamp on the story to see when it was last updated.
A hiker who fell ill at a popular L.A. hiking destination Sunday afternoon has died, according to the Los Angeles Fire Department.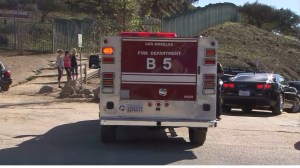 A fire helicopter joined ground crews in responding to reports of a male adult hiker at Runyon Canyon Park who had collapsed and stopped breathing just before 2:30 p.m., authorities said.
Less than an hour later, the LAFD tweeted that the man had died on the trail.
"He was just walking and then he just tumbled and lost consciousness," said John Zahedi, who witnessed the hiker's collapse.
Jenny Gittler, a nurse who was on the trail at the time, administered CPR to the man for seven minutes before emergency medical technicians arrived by helicopter.
"He was blue in the face, blue on the hands and toes, and his pulse was 25 a minute," Gittler said of the hiker's condition.
She said the man was 53 years old.
It was not immediately clear what caused the hiker to collapse. The coroner will determine if the death was heat related, LAFD spokesman Brian Humphrey said.
The hiker died as temperatures in Southern California soared on Sunday. Los Angeles International Airport set a preliminary record for March 9, reaching a high of 85 degrees, according to the National Weather Service.
As of Sunday evening, the hiker's identity had not yet been released.
*UPDATE: Runyon Canyon Park* Adult M hiker is deceased at scene; Media =
Coroner PIO; NFD – Brian Humphrey### http://t.co/BMpM8Gmafm

— LAFD (@LAFD) March 9, 2014
KTLA's Jim Nash contributed to this report.