This is an archived article and the information in the article may be outdated. Please look at the time stamp on the story to see when it was last updated.
An unmanned aerial vehicle — better known as a drone — shut down evening aerial firefighting operations over the Lake Fire, which in turn burned more than 3 1/2 additional square miles overnight, authorities said Thursday.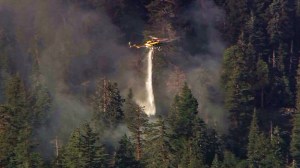 The drone was spotted about 5:30 p.m. Wednesday flying between two fixed-wing aircraft battling the massive wildfire burning south of Big Bear Lake, according to Mike Eaton, forest aviation officer for the San Bernardino National Forest.
The sighting of the illegal aircraft prompted authorities to recall all aircraft battling the fire.
"We don't want to deal with unknown aircraft in our airspace," Eaton said. "They've got enough on their mind already … difficult terrain, difficult weather, winds and other things. They don't need to be worrying about model airplanes or drones."
Authorities could not figure out who was flying the drone or where it returned to. It was a fixed-wing type of plane, described as orange or red and about 4 feet wide.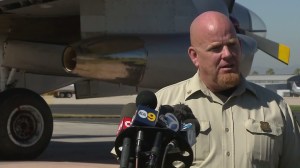 The drone was flying at about 11,000 feet, some 800 or 900 feet above the ground, Eaton said. Drones are not permitted above 400 feet, he said.
Further, Eaton said, the drone was illegally in an area under a federal temporary flight restriction due to the firefighting work.
"If you fly, we can't," Eaton said. "It's breaking the law."
A second drone over Lake Arrowhead was also spotted Wednesday by a firefighting pilot returning from a mission, he said.
The air operations shutdown brought an immediate halt to the delivery of some 5,000 gallons of fire retardant and stopped other missions that were planned that night, according to Eaton.
"We had to shut down subsequent missions that could have contained — possibly — that south side of the fire," Eaton said.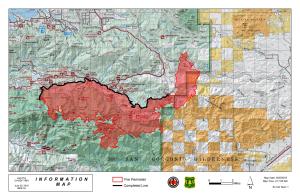 Operations that typically go to 7:30 or 8 p.m. were halted immediately after the drone was spotted, meaning firefighters lost about two or 2 1/2 hours of air attack time, Eaton said.
The timber fire — burning in mountainous, difficult terrain — went on to grow overnight from 20,875 acres to 23,199 acres. More than 7,000 structures were threatened and mandatory evacuations were in effect in several areas around the fire.
Law enforcement planned be in the area on Thursday and would to try to track any other drones spotted, Eaton said.
UNMANNED AIRCRAFT OR DRONES ARE NOT PERMITTED ANYWHERE NEAR AN ACTIVE FIRE – DO NOT HAMPER FIREFIGHTING OPERATIONS pic.twitter.com/5ULffK1MIf

— San Bernardino National Forest (@SanBernardinoNF) June 25, 2015
Tonight a hobby drone grounded firefighting aircraft by flying over the #LakeFire. When you fly…we CAN'T! Puts our pilots lives at risk.

— CAL FIRE PIO (@CALFIRE_PIO) June 25, 2015