This is an archived article and the information in the article may be outdated. Please look at the time stamp on the story to see when it was last updated.
HAWTHORNE (KTLA) — Two men are in custody after allegedly kidnapping a man and forcing him to drive them to a strip club.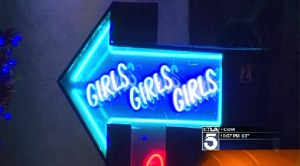 According to deputies, the incident began when the victim was approached by 2 men in front of a house near 107th Street and Inglewood Avenue around midnight.
The victim says the men demanded he give them a ride.
Fearing they were gang members, the victim agreed.
The suspects made him stop at several locations before ending up at the Bare Elegance gentlemen's club on West Imperial Highway.
At that point, they allegedly robbed him before entering the club.
Deputies arrested Miguel Ortiz, 33, and Sergio Maldonado while they were watching a performance.
The were booked on suspicion of robbery and kidnapping.