This is an archived article and the information in the article may be outdated. Please look at the time stamp on the story to see when it was last updated.
Two convicted sex offenders who allegedly killed and raped four women in Orange County while wearing their required GPS monitoring devices may have had additional victims, police said Monday.
Steven Dean Gordon, 45, and Franc Cano, 27, who were both described as transients who frequented the Anaheim area, were arrested Friday night, Anaheim police Lt. Bob Dunn said.
They were convicted of sex crimes with children in 1992 and 2007, respectively, and about three years ago both cut off their ankle bracelets and fled to Las Vegas together, court records show.
They had been arrested in that Nevada case and had recently been in compliance with requirements to register as sex offenders in Orange County during the time of the recent killings and rapes, according to police.
Their four alleged victims were identified as: Jarrae Nykkole Estepp, 21, of Oklahoma; Kianna Jackson, 20, of Las Vegas; Josephine Monique Vargas, 34, of Santa Ana; and Martha Anaya, 28, also of Santa Ana.
"Our hearts go out to the victims in this case. The families are all very distraught and concerned," Orange County District Attorney Tony Rackauckas said at a Monday afternoon news conference.
The two men were charged Monday with four felony counts each of both special circumstances murder and forcible rape, according to Rackauckas. The special circumstance sentencing enhancements included murder in the commission of rape, multiple murders, and lying in wait, a news release from Rackauckas' office stated.
Cano and Gordon could face life in prison or the death penalty if convicted, Rackauckas' said.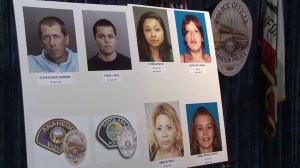 "We are confident there is one additional victim, and possibly more," Anaheim police Chief Raul Quezada said at the news conference. "We are asking for the public's help."
The cases were linked together after Estepp's body was discovered at an Anaheim recycling plant on March 14. Santa Ana police detectives who had been investigating the case of three missing women for several months at that time contacted Anaheim investigators.
Jackson, Vargas and Anaya were all reported missing between October 2013 and November 2013, according to a joint news release from the Anaheim and Santa Ana police departments.
Jackson checked into a Costa Mesa hotel after getting off a Greyhound bus in Santa Ana on Oct. 2, 2013; her mother reported her missing several days later, Santa Ana police Chief Carlos Rojas said at Monday's news conference.
Vargas was last seen Oct. 23 at a Red Roof Inn in Santa Ana and had known to frequent the city's East First Street, which is known for prostitution, Rojas said.
Anaya never picked up her 5-year-old daughter and was reported missing by her mother, Rojas said. She also frequented East First Street, Rojas said. She had last been seen at her Santa Ana home on Nov. 12.
The three women's disappearances were being treated as homicides, Dunn said, but their bodies had not been found.
Along with Estepp, the three missing women were believed to have worked as prostitutes and shared a similar victim profile in terms of their behavior, lifestyle and the places they went, police said.
Cano and Gordon had not been on the "radar" of Santa Ana police until the missing-persons cases were linked to Estepp's death, Rojas said.
Data from the Cano's and Gordon's GPS ankle bracelets and other unnamed evidence led police to arrest them on suspicion of the killings, Quezada said.
The evidence shows that the men allegedly committed the crimes while wearing their GPS bracelets, he said.
"The GPS was in fact intact, attached to these suspects, during the commission of the crimes," Quezada said.
The two men were in compliance with their regular, required check-ins with police every 30 days, Dunn said.
In 2012, the two men had cut off their electronic monitoring bracelets and fled to Las Vegas under fake names, according to plea agreements filed in Nevada. They stayed at the Circus Circus hotel and casino until being taken into custody after several weeks, the court records state.
Gordon was convicted of lewd acts upon a child in a Los Angeles County court in 1992, requiring him to register as a sex offender for the rest of his life. Nevada court records showed. Gordon was also convicted of kidnapping in 2002, according to the Orange County District Attorney's Office.
Similarly, Cano had been convicted in an Orange County court in 2007 of lewd or lascivious acts with a child under 14, the court records state. He also was required to register as a sex offender for life.
The two men were on parole when they cut off their ankle bracelets in April 2012 and took a Greyhound bus to Las Vegas.
Both men admitted they had come to Las Vegas under fake names and did not register as sex offenders when there because they knew they would be arrested on California warrants for parole violations, the court records state.
The Las Vegas time period will be examined as part of detectives' effort to find out if there are more victims, Dunn said.
The two men were being held without bail and were expected to appear for arraignment on Tuesday morning in Santa Ana, the DA's office said.
Anyone with information about the cases, or anyone who believes these suspects may have been in contact with other missing persons, was asked to contact Orange County Crime Stoppers at 855-847-6227 (855-TIP-OCCS) or occrimestoppers.org or text OCCS and your tip to 274637 (CRIMES).
KTLA's Melissa Pamer, Jennifer Gould, Tracy Bloom contributed to this report.
Correction: An earlier version of this article spelled Gordon's first name incorrectly. The story has been updated.