This is an archived article and the information in the article may be outdated. Please look at the time stamp on the story to see when it was last updated.
Counselors were at the private Oakwood School in North Hollywood Thursday, a day after three 14-year-old students were stuck and seriously injured by a Toyota Prius that drove through a crosswalk.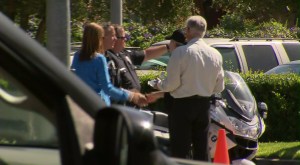 One girl remained in critical condition at Northridge Hospital Medical Center; a CHP official said Wednesday evening that she was on life support with severe head injuries.
She was among three girls hit by an out-of-control vehicle that smashed into the students and then collided with another car at about 1:30 p.m. near the Magnolia Boulevard off-ramp from the southbound 170 Freeway.
"We hope for a full recovery but she is still in critical condition," the girl's mother said in an statement sent to media Thursday morning. "We appreciate the outpouring of love and support from friends, family and Oakwood School."
The family asked for privacy and did not provide the victim's name.
The two other victims had a broken arm and a dislocated hip and were expected to recover, according to California Highway Patrol, which was investigating. They were taken to Cedars-Sinai Medical Center, according to CHP.
The 48-year-old male driver of the 2013 Prius was hospitalized in Burbank and then released. He was identified by CHP on Thursday as Vartan Vartanian of North Hollywood, and the vehicle was described as a Hertz rental car.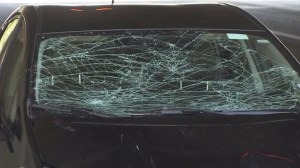 "The driver did say his brakes went out," said Leland Tang of the CHP. "The beneficial part with most of these modern vehicles now is they have a black box, so we'll be able to tell what his speed was, if he even applied his brakes."
It could take a week for investigators to examine evidence, Tang said. It was not yet known if charges would be filed against Vartanian, he said.
Security was intense around the school campus on Thursday with few parents or teachers will to speak.
One Oakwood employee said counselors were available to speak with students who needed emotional support after the crash, which occurred in front of more than a dozen other students.
The group was returning to campus with an instructor after a P.E. class at a nearby North Hollywood Park when the crash occurred, leaving the three girls lying in the street.
One parent said his 11th-grade daughter was traumatized by seeing her classmates in the roadway. Another parents said he was keeping the victim's family in his thoughts.
"We hope for a speedy recovery, and we hope justice is — with the driver — that we can get to the bottom of it," parent Cameron Wood said.
The driver and the three victims are all from Valley Village, according to CHP.
KTLA's Sara Welch and Kimberly Cheng contributed to this report.