This is an archived article and the information in the article may be outdated. Please look at the time stamp on the story to see when it was last updated.
Investigators are hoping newly released surveillance video will help them arrest the driver who plowed into a 24-year-old man hit and dragged down the street in Stanton last month.
The graphic video of the April 23 collision that left Jeff Bell seriously injured was released by the Orange County Sheriff's Department Thursday.
"It sickens me. That's not just some human being, that's my boy," said the victim's father, Michael Bell. "His scalp was basically torn from his head. It took 38 staples to attach it."
Jeff Bell, who is autistic, remained hospitalized Thursday. He suffered burns and abrasions to more than 20 percent of his body and severe lacerations to his head after being hit by a pickup truck at the intersection of Chapman Avenue and Beach Boulevard (map), a Orange County Sheriff's Department news release stated.
Jeff Bell had been on his way to catch a bus to go to work, Michael Bell said.
In the video (embedded below), the teal vehicle hit Bell, dragged him through an intersection and then fled westbound on Chapman Avenue. The GMC single cab pickup truck was described as bright teal metallic with a model year between 1993 and 1996, according to the release.
"We understand that accidents happen. But making a conscious decision to drag someone 100 feet across the asphalt and drive away, without helping him, leaving him for dead — that's no accident," Michael Bell said.
The truck had front-end damage as a result of the collision, and had one or more stickers attached to the left side of the rear car window, according to the Sheriff's Department. No description of the driver was available.
A $5,000 reward was being offered by the Association of Orange County Deputy Sheriffs for information leading to the arrest and conviction of the driver, the union announced Thursday afternoon.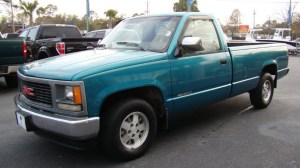 "Only a coward could knowingly inflict such pain on another human being and leave them for dead in the middle of the street," said the association's president, Tom Dominguez. "It is a miracle Mr. Bell managed to survive this. We hope that someone will have the courage to do the right thing and identify the driver who seriously injured this young man."
The 24-year-old had just begun to experience some freedom and his family was encouraged that he had a new job at an Office Depot in Garden Grove.
His father hoped the physical injuries Jeff suffered would not leave any emotional scars that could set back his progress.
Anyone with information was asked to call investigators at 949-425-1864. To make an anonymous tip, call Orange County Crime Stoppers at at 855-847-6227 or go to occrimestoppers.org.
KTLA's Chip Yost and Melissa Pamer contributed to this article.
The following video was provided by the Orange County Sheriff's Department. It contains graphic images of the hit-and-run.