This is an archived article and the information in the article may be outdated. Please look at the time stamp on the story to see when it was last updated.
Two injured men were rescued by helicopter off snow-covered Mount Baldy Thursday after an avalanche pushed them off the trail and hundreds of feet down the mountainside, authorities said.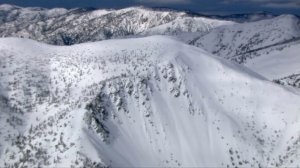 The men were in the Baldy Bowl area when the avalanche occurred, forcing them to slide down to the 9,000-foot level. A witness called 911, according to a news release from the San Bernardino County Sheriff's Department.
Firefighters were called to the scene about 12:15 p.m. with a report that three hikers were on "unstable snow overlaying a sheet of ice" following an avalanche southeast of the 10,064-foot peak of Mount Baldy, according to a county Fire Department release.
"Apparently they were up hiking right along the ridge, on the ridgeline, and the snow gave way underneath their feet," fire Battalion Chief Doug Nelson said. "They hit a soft spot, created the avalanche, were swept down about 200 to 300 feet from the top of the ridgeline."
A sheriff's patrol helicopter was dispatched and found the victims "at the center of Baldy Bowl," the sheriff's release said.
"Luckily, they were not buried under the snow," Nelson said.
The men had activated their SPOT devices -- emergency personal satellite locators.
A rescue helicopter with sheriff's and fire personnel hovered over the location while a firefighter and fire captain were lowered about 85 feet down to the ground. The rescuers moved up steep, snow-covered terrain to the hikers, placing them into harnesses.
The victims, identified as 27-year-old Cody Ayala of Long Beach and 32-year-old Chris Chung of Irvine, were hoisted and airlifted to nearby Cow Canyon Saddle, at Glendora Ridge Road.
Video from the saddle showed one victim able to limp from the helicopter with assistance. The other was carried in a rescue basket to a gurney, but was clearly conscious.
The men were taken to a hospital; the third hiker declined help and was able to hike out on his own.
Nelson said the injuries were minor to moderate.
"It could have been far worse," Nelson said. "It could have been a body recovery."
Avalanche control measures are not used in the backcountry of Mount Baldy, the Fire Department said.