This is an archived article and the information in the article may be outdated. Please look at the time stamp on the story to see when it was last updated.
An admitted serial killer arrested on suspicion of killing a mother, her son and four homeless men in Orange County showed no remorse for the slayings, telling authorities "it had to be done," according to newly released video obtained by KTLA.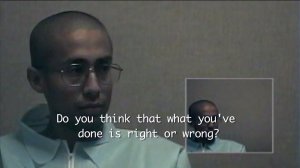 The video was initially recorded about 1 a.m. on Jan. 14, 2012, just hours after the arrest of a suspect, former Marine Itzcoatl "Izzy" Ocampo. In the video, Ocampo responded to questions from Anaheim police Sgt. Daron Wyatt.
"You know what's right and you know what's wrong?" Wyatt said.
"Yes, sir," Ocampo said.
"Do you think that what you've done is right or wrong?" Wyatt said.
"Wrong, but it had to be done," Ocampo said.
During the interview, Ocampo said he had what he called "the kill gene."
"I didn't get to kill when I was in … I'd look at other Marines and, you know, want to be like them," he said.
Update: More of the Ocampo interview will air during the KTLA 5 News on  Thursday at 10 p.m.
Ocampo began what prosecutors called a "serial thrill-kill spree" on Oct. 25, 2011, allegedly stabbing 53-year-old Raquel Estrada and her son, 34-year-old Juan Herrera, in their Yorba Linda home. Over the next three months, Ocampo allegedly killed four homeless men: 53-year-old James McGillivray; 42-year-old Lloyd Middaugh; 57-year-old Paulus Smit; and 64-year-old John Berry.
All of the victims were found with dozens of stab wounds, according to the Orange County District Attorney's office.
Ocampo was arrested the same day as the Berry slaying: Jan. 13, 2012. He later died in custody on Nov. 28, 2013, after fatally ingesting cleaning powder while still awaiting trial, according to his attorney.
An investigation into Ocampo's death was ongoing, authorities said.