This is an archived article and the information in the article may be outdated. Please look at the time stamp on the story to see when it was last updated.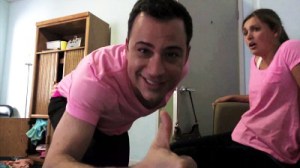 Ok, people, let's say it all together again: If it looks too good to be true, it probably is.
That video of an eagle swooping down to pick up a baby? Fake!
That eHarmony bio of a woman sobbing hysterically about how much she just LOVES cats? Fake!
And, as if you needed more proof, there's this now: the worst twerk fail EVER was actually an awesome staged fail!
Click here to read the full story on CNN.com.
[protected-iframe id="f1e525f54263591f1c0481b1eb0696ba-41641936-52137988″ info="http://i.cdn.turner.com/cnn/.element/apps/cvp/3.0/swf/cnn_embed_2x_container.swf?site=cnn&profile=desktop&context=embedwww&videoId=showbiz/2013/09/10/mxp-sot-twerk-fail-prank-jimmy-kimmel.hln&contentId=showbiz/2013/09/10/mxp-sot-twerk-fail-prank-jimmy-kimmel.hln" width="416″ height="234″]