This is an archived article and the information in the article may be outdated. Please look at the time stamp on the story to see when it was last updated.
LITTLEROCK, Calif. (KTLA) — Authorities seized a group of pit bulls they believe may have attacked and killed a woman out for a walk in the Antelope Valley on Thursday.
Sheriff's deputies carried eight dogs, six of them pit bulls, out of a house in the 37700 block of 115th Street in Littlerock around 5:30 p.m., authorities said.
Four people, two men and two women, were detained at the house by deputies.
The Los Angeles Department of Animal Care and Control responded to the call of a fatal pit bull attack around 9:30 a.m.
The victim was identified by the L.A. County Coroner's Office as Pamela Marie Devitt, 63, of Littlerock.
She was out for her morning walk on Avenue S, between 110th Street East and 113th Street East, when she was attacked, authorities said.
Devitt died while being transported by ambulance to an area hospital.
A woman driving by saw a pack of dogs attacking the victim on the ground, said Lt. John Corina, of the L.A. County Sheriff's Department.
"She sees a group of dogs and it looks like they're attacking something," Corina said. "As she gets closer, she sees it's a woman face down on the ground."
The woman honked her horn to try to scare the dogs away, but they turned and attacked her car, biting at the tires, Corina said.
The driver called 911. When deputies arrived at the scene, the dogs turned on them, authorities said.
One of the deputies fired rounds toward the dogs, causing the animals to flee, sheriff's officials said in a statement.
The sheriff's department and the DACC launched a search for the dogs, using a helicopter and patrol cars.
L.A. County Supervisor Michael Antonovich offered a $25,000 reward for information leading to the capture of the dogs. Shortly before 7 p.m., he tweeted that they had been captured.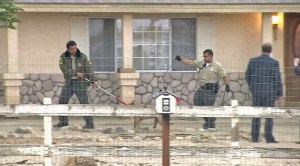 After receiving information from residents and animal control workers, deputies served a search warrant at the home in Littlerock.
While investigating the pit bulls at the house, deputies also found a marijuana growing operation.
A 29-year-old man was taken into custody on suspicion of cultivating marijuana. He could face additional charges if the dogs are linked to the deadly attack.
Authorities have not put the dogs down yet because they haven't completed DNA tests to determine if they killed the victim.
The dogs had been aggressive in the past, according to neighbors.
They had video of the dogs hopping over the fence at the house where they were found on Thursday.
"If there's people on horses or elderly people walking, they attack them," one man, who did not want to be identified, said.