This is an archived article and the information in the article may be outdated. Please look at the time stamp on the story to see when it was last updated.
SAVANNAH, Ga. — A federal judge has dismissed the racial discrimination claims in a lawsuit filed by a former employee against Paula Deen, the celebrity chef's representative said Monday.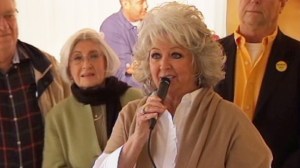 The former employee can't claim to be a victim of racial discrimination targeting African-American workers because she is white, U.S. District Judge William T. Moore Jr. ruled. "At best, plaintiff is an accidental victim of the alleged racial discrimination," Moore wrote.
Other aspects of the lawsuit, including sexual harassment and abusive treatment, are still pending.
"We are pleased with the Court's ruling today that Lisa Jackson's claims of race discrimination have been dismissed," Deen's representatives said in a statement to CNN. "As Ms. Deen has stated before, she is confident that those who truly know how she lives her life know that she believes in equal opportunity, kindness and fairness for everyone."
Click here to read the full story on CNN.com.